RTE foods provide a convenient solution if there is no time or possibility to cook. As no further intervention is made to eliminate contamination and to reduce germs, caution is needed for their storage.
A significant group of RTE foods are raw vegetables and fruits. Microbiological contamination of vegetables and fruits may as well cause foodborne diseases and outbreaks as foods of animal origin do.
The role of leafy green vegetables in disseminating Salmonella is increasingly being recognized. Recent evidence suggests that plants may serve as active hosts to Salmonella. In a recent publication the colonisation of two strains of Salmonella Thompson were compared on pre-harvest basil leaves.
During our emerging risk identification activities, we were informed of the following cases related to RTE-foods.
Listeria outbreak related to enoki mushrooms in the United States
CDC issued an alert in 2020 summer related to infection of Korean enoki mushrooms with Listeria. Listeria can cause serious illness which may result in a life-threatening condition.
---
Listeriosis can cause different symptoms, including vomiting, nausea, abdominal pain and diarrhea, high fever, muscle aches, severe headache and stiff neck, confusion, loss of balance and convulsions. Pregnant women, the elderly and people with weakened immune systems may experience more severe symptoms. Although infected pregnant women may only experience mild, flu-like symptoms, the infection can lead to premature delivery, the infection of the newborn or even stillbirth. In serious cases the infection can lead to death. Symptoms usually start 1 to 4 weeks after eating food contaminated with Listeria. Some people have reported symptoms starting as late as 70 days after exposure or as early as on the same day of exposure.
---
The outbreak spread to several states (36 patients in 17 states), the investigation of which was conducted jointly by CDC and FDA. WGS (whole genome sequencing) revealed that bacteria isolated from ill people had close genetic relationship, suggesting a common source of infection. During this outbreak 31 people were hospitalised, and 4 of them died. Six pregnancy-associated cases were reported, with two resulting in fetal loss.
In interviews, ill people answered questions about the foods they ate and other exposures in the month before they became ill. 55% of them reported eating mushrooms, including enoki, portobello, white, button, cremini, wood ear, maitake, and oyster.
FDA and state officials collected enoki mushrooms for testing from several grocery stores of several states, and identified the outbreak strain. During traceability investigations, these samples were connected to different Korean companies, which initiated product recalls.
On March 18, 2020, the Korean Ministry of Food and Drug Safety published its investigation findings and steps it would take to prevent future illnesses. It found Listeria monocytogenes in enoki mushrooms produced by two firms in the Republic of Korea.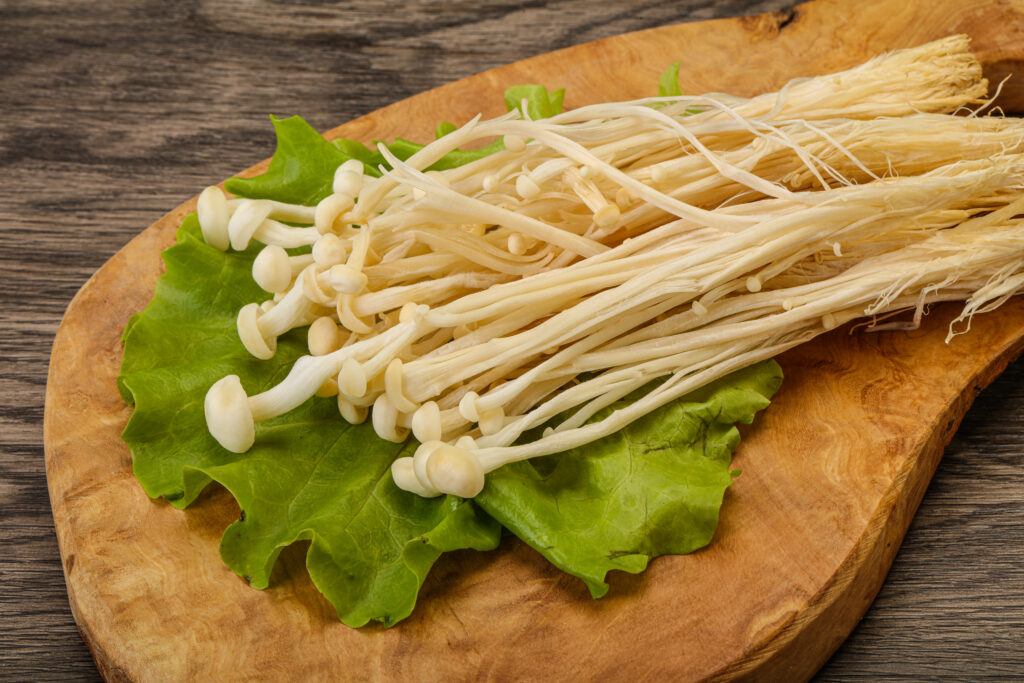 Outbreak of Salmonella Enteritidis caused by peaches in the United States
CDC issued an alert in 2020 summer related to peaches contaminated with Salmonella Enteritidis.
---
The symptoms of Salmonella infection include diarrhea, vomiting, fever, stomach cramps and dehydration, which usually start 6 hours to 6 days after being exposed to the bacteria. The illness usually lasts 4 to 7 days, and most people recover without treatment. In some people, the illness may be so severe that the patient needs to be hospitalized. Salmonella infection may spread from the intestines to the bloodstream and then to other places in the body. Children younger than 5 years, adults 65 years and older, and people with weakened immune systems are more likely to have a severe illness.
---
A total of 101 people became ill with the outbreak strain of Salmonella Enteritidis from 17 states. Illnesses started on dates ranging from June 29, 2020, to August 27, 2020. 28 hospitalizations were reported, none of the patients died. In interviews, ill people answered questions about the foods they ate and other exposures in the week before they became ill. Of 62 people with information, 50 (81%) reported eating fresh peaches in the week before their illness started. This percentage was significantly higher than results from a survey of healthy people in which 20% reported eating peaches in the week before they were interviewed. Of the 40 people who reported information on how the peaches were packaged, 25 (63%) reported buying loose peaches and the remaining 15 reported buying pre-bagged peaches.
Records were collected from grocery stores from several states where ill people had reported buying peaches. These records showed that loose and bagged peaches distributed by Wawona Packing Company, LLC, were sold at multiple grocery stores where ill people bought peaches. On August 22, 2020, Prima Wawona recalled bagged and bulk, or loose, peaches that they supplied to retailers nationwide.
Public Health Agency of Canada was also involved in the joint investigations, as whole genome sequencing analysis showed that an outbreak of Salmonella Enteritidis infections in Canada was related genetically to this outbreak in the United States.
Leafy green products recalled due to possible health risks caused by Listeria monocytogenes in the United States
Leafy green vegetables (arugula, basil, romaine, spring mix, etc.), were recalled in 2021 July due to contamination by Listeria monocytogenes in the United States. The positive test for Listeria monocytogenes was from a routine facility test of rainwater holding tanks in the greenhouse facility as well as testing from a customer who received contaminated Basil product. Multiple samples of all products from multiple lot codes as well as additional water testing has been completed. The positive test for Listeria monocytogenes in product has been determined that it was an isolated event. However, out of an abundance of caution the company decided to recall all relevant products. No illnesses have been reported in connection to this event.
Vélhetően koriandert és lime-ot tartalmazó ételízesítő okozott Salmonella járványt az Egyesült Államokban
An outbreak of Salmonella was reported in 2021 September in the United States. The outbreak has more than doubled in infections in over a week. First cases had been reported on 2 September with 20 illnesses caused by Salmonella Oranienburg. On 15 September, the Centers for Disease Control and Prevention reported that 127 people in 25 states had been infected with Salmonella, resulting in 18 hospitalizations. A few days later CDC reported that 279 people had been sickened, and the outbreak had reached another four states. An additional eight people had then been hospitalized because of Salmonella. No deaths were reported. The possible source of infection was first not identified, but state and local officials from infected states have collected food samples from restaurants where sick people ate and found Salmonella in a condiment cup containing cilantro and lime. As the product had contained other foods as well besides these, it was not possible to trace back which of them had been contaminated.
As the investigations unfolded, whole raw red, white and yellow onions imported from Mexico were identified as the sources of the outbreak, which have been consequently recalled. Altogether 1040 illnesses and 260 hospitalizations from 39 states were reported in this outbreak. No deaths have been reported.
Listeria found in mushroom products from Canada
Enoki mushrooms were recalled in 2021 September in Canada, due to Listeria contamination, There were no illnesses reported related to this case. The Canadian Food Inspection Agency (CFIA), whose test results triggered this recall, was verifying that industry was removing the recalled product from the marketplace.
At the end of October 2021, the recall of sliced white mushrooms has been reported in Canada, due to potential contamination with Listeria monocytogenes . The recall had been issued by Carleton Mushroom, which had prepared the mushrooms for Metro Brands. No illnesses have been reported in connection to this case.